Oregano – an Aromatic but Loaded Culinary Herb. Part I: Pyrrolizidine Alkaloids
Thomas Kapp, Dr. Florian Hägele, Eva-Maria Plate
Earlier investigations at CVUA Stuttgart have already shown that kitchen herbs can occasionally be contaminated with pyrrolizidine alkaloids (PA). Due to the health risks of PA, especially their liver-damaging characteristics, CVUA Stuttgart analyzed standard, commercially available, dried oregano from November 2018 to June 2019 for the presence of PA.
The analytical results signal a need for action: almost half of the oregano samples were deemed unfit for human consumption due to conspicuously high levels of PA, and a further 22 % of the samples were even categorized as being injurious to one's health. A total of 71 % of the dried oregano samples were reported as being unsafe, due to the quantities of pyrrolizidine alkaloids detected. It is highly probable that the contamination can be traced to the inclusion of PA-forming foreign plants during harvest
Info Box
Pyrrolizidine Alkaloids
Pyrrolizidine alkaloids (PA) are a group of several hundred structurally closely related individual compounds. They serve to protect the plants from predators, and occur naturally in over 6,000 plant species. These can be divided into three main families:
composite (Asteraceae),
borage (Boraginaceae) and
legume (Fabaceae or Leguminosae)
PAs are problematic, however, due to their chronic liver-damaging effect. The subgroup of unsaturated PAs and their N-Oxides are especially troubling, as they are suspected of being mutagenic and have been found in animal testing to be carcinogenic.

The German Federal Institute for Risk Assessment (BfR) has therefore recommended not exceeding a daily dose of 0.024 µg unsaturated PA/kg bodyweight (BW). For an adult weighing 60 kg, this means consuming no more than the extraordinarily small amount of 1.44 µg PA per day, and even less for children and toddlers.

A non-cancerous health effect resulting from exposure to PA is especially liver damage, which can lead to liver necrosis. To assess these effects, the BfR derived a health-based guidance value (HBGV) of 0.1 μg/kg BW. Non-cancerous damage is not yet expected with doses under this level. [2]

The investigative spectrum at CVUA Stuttgart currently includes 42 toxic individual compounds (including N-Oxides). In order to better present and compare PA contamination of the analyzed samples, the measured individual values are summarized.

PA-forming plants, with the exception of borage, are not normally consumed as food. Therefore, elevated PA amounts generally point to the presence and further processing of foreign plants together with those to be harvested. Given its pronounced toxicity, food businesses must take measures to avoid contamination from PA as much as possible. The EU has a minimization imperative for contaminants, including PA. The quantities must be limited to the same extent that the ALARA principle (As Low As Reasonably Achievable) requires, from production to market. This is especially necessary for genotoxic carcinogens, because even small amounts, especially when taken regularly, are associated with higher risks of unwanted health effects.
In the interest of consumer protection, the EU Commission has already begun determining maximum levels for PA in different foods. A maximum quantity of 1,000 µg/kg for herbs such as oregano is currently under discussion.
Analyzed Sample Material
As a seasoning herb, oregano (Origanum vulgare L.), also called wild marjoram, lends a strong, aromatic-herbal taste that is used in many dishes, especially from the Mediterranean kitchen. Oregano is practically indispensable as a seasoning for pizza or pasta sauces. This popular herb is usually found on its own in the kitchen in dried, rubbed form, but is also often part of herbal mixes. Problems arise for the consumer with rubbed oregano and the small plant pieces it consists of, since a realistic possibility of even recognizing, much less removing, any noticeable foreign plant parts is lacking (Illus. 1). This is even more impossible for processed foods containing oregano [1].

The analyses focused on dried oregano alone. A total of 41 samples of dried oregano from individual shops and wholesalers, as well as food processing plants, were analyzed for the presence of pyrrolizidine alkaloids (PA).
Illustration 1: Fresh herbs with intact structures can easily be identified by their leaves (here: oregano). With dried and crushed herbs, however, foreign parts are often not visibly recognizable.
Analytical Results
The analyses of dried oregano samples for PA yielded extremely unusual results. Compared with foods that are already considered problematic with regard to PA, such as herbal teas and honey, the oregano samples contained above-average quantities of PA, up to 32,400 µg/kg. The average amount of PA among the 41 samples was 6,160 µg/kg and the median was 5,430 µg/kg.
Illustration 2: Amount of pyrrolizidine alkaloids in dried oregano; no. of samples was 41.
A good half of the samples (21 samples; 51 %) contained between 1,000 and 10,000 µg/kg of PA (see Illus. 2). PA amounts of greater than 10,000 µg/kg were detected in 10 samples, a rate of 24 %. Only about a quarter of the samples had less than 1,000 µg/kg of PA. The alkaloids europine and lasiocarpine as well as their N-oxides (see Illus. 3) played the greatest role in the total contamination for all of the contaminated samples. Only one sample from Germany contained no detectable PA.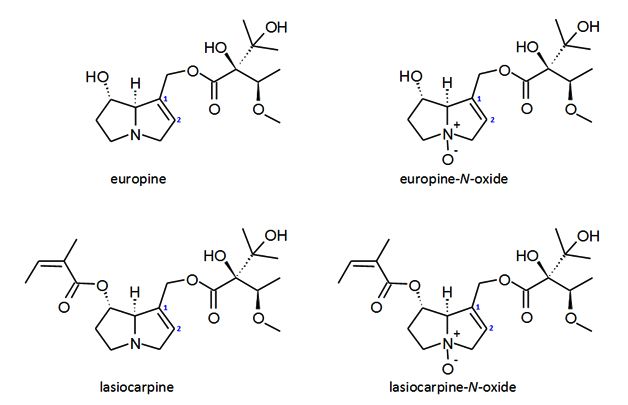 Illustration 3: Structural formulae of the pyrrolizidine alkaloids and their N-oxides that occur most often in oregano. The toxicity of the compounds is determined by the unsaturated 1,2-position of the basic structure (numbered in blue).
Maximum levels for the sum or individual pyrrolizidine alkaloids have not yet been established in Germany or in Europe. The German Federal Institute for Risk Assessment (BfR) warns that long-term consumption of products with high levels of PA, especially by children, pregnant women and nursing mothers, risks injury to one's health, due to the liver-damaging effect of 1,2 unsaturated PA (see Info Box). The legal assessment of the oregano findings is based on the toxicological guideline values of the BfR with regard to the carcinogenic effects of PA (0.024 µg/kg bodyweight and day) and the non-carcinogenic, liver-necrotic effects of PA (HBGV of 0.1 μg/kg BW; see Info Box).

For the sample detected with the highest level of PA of 32,400 µg/kg, this means that if an adult weighing 60 kg consumed 0.044 g oregano, the daily limit of 0.024 µg/kg BW considered to be safe from cancer would be exhausted. If this same adult consumed 1 g of this sample (approx. one teaspoon), this dosage would be exceeded by a factor of 19. Besides, the health-based guidance value (HBGV) for non-carcinogenic, liver-necrotic effects would be exhausted with the consumption of just 0.19 g of this contaminated sample. This quantity of dried oregano amounts to about one-fifth of a teaspoon.
As a result of the extreme levels of PA contamination, a total of 20 of the 41 oregano samples (49 %) were categorized as unacceptable for human consumption, and therewith judged to be unsafe food. One out of five samples (9 samples, 22 %) was even judged to be injurious to human health, due to the extremely high PA levels. The rate of violations among these PA-contaminated, dried oregano samples was 71 %.
Oregano (Origanum vulgare L.) is a plant from the labiate family (Lamiaceae), for which no formation of PA has been described in the literature. It can be assumed, therefore, that the PA findings in the oregano samples are a result of foreign plants that were mixed in with the oregano at the time of harvest. As the analyses showed, the alkaloids europine, europine-N-oxide, lasiocarpine and lasiocarpine-N-oxide were responsible for the PA contamination in the dried oregano. Interestingly, all of the contaminated samples had a coherent pattern of alkaloids. This indicates that the source of the determined contamination was a prevalence of foreign plants growing among the oregano cultivation. In view of the documented alkaloids, it is highly likely that these plants were from the borage family (Boraginaceae).
Further information on earlier analyses of pyrrolizidine alkaloids in herbs, tea and honey can be found here:
Conlusions
The consistent, strikingly high quantities of pyrrolizidine alkaloids detected in the dried oregano samples (average value 6,160 µg/kg; median value 5,430 µg/kg) show that the underlying problem of contamination from PA-forming foreign plants is not an isolated case, but rather a large-scale problem that affects many products. PA contamination to this large extent can no longer be brushed off as a problem of trace amounts, from single plants. Given the PA-induced violation rate of 71 % in dried oregano, it is the urgent view of CVUA Stuttgart that comprehensive research into its causes at the level of producer and cultivation control, with special focus on foreign plant vegetation, be conducted.

The goal here should be the reduction of PA-forming foreign plants in the oregano cultivation site to a healthy, acceptable level before the harvest. Furthermore, within the framework of their obligations of due diligence and their own carrying out of food analyses, manufacturers and traders should monitor oregano batches before being marketed and, where necessary, remove conspicuous products from the market.

These measures are also necessary because the total exposure to PA by consumers can also be increased by the consumption of other foods such as herbal teas or honey. In view of the very high PA levels, an intake of even comparatively low amounts of dried oregano presents an additional, relevant source of PA exposure for adults, children and youth. Since even small doses of genotoxic and carcinogenic substances can be associated with increased health risks, one's total exposure to PA should be held as low as possible [3, 4].

There is little action the concerned consumer can undertake, as it isn't possible to know whether dried oregano has been contaminated with other plants, and thus, whether one is at risk for PA contamination or not. Those who want to play it safe can take fresh oregano from a pot or from their own garden and, if so wished, dry it themselves.
Part II of our report of the oregano analytical series focuses on pesticide contamination and consumer fraud.
References
[1] Stern, 21. Dezember 2018: "Das große Oregano-Mysterium: Wie das Gewürz mit Laub gepanscht wird"
[2] Stellungnahme Nr. 020/2018 des BfR vom 14. Juni 2018: "Aktualisierte Risikobewertung zu Gehalten an 1,2-ungesättigten Pyrrolizidinalkaloiden (PA) in Lebensmitteln"
[3] Stellungnahme Nr. 030/2016 des BfR vom 28. September 2016: "Pyrrolizidinalkaloide: Gehalte in Lebensmitteln sollen nach wie vor so weit wie möglich gesenkt werden"
[4] Stellungnahme Nr. 017/2019 des BfR vom 13. Mai 2019: "Pyrrolizidinalkaloidgehalt in getrockneten und tiefgefrorenen Gewürzen und Kräutern zu hoch"
Translator: Catherine Leiblein